Cards to support and encourage conversational interaction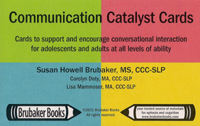 320 cards, 4 color coded dividers, and Used Cards divider
Sturdy plastic storage case
Suggestions Guide
Sturdy color-coded dividers between decks and one Used Cards divider
$100
4 color-coded decks sorted by level and type of response.
Click on the link below to view Sample Cards
Nonverbal Answers    Word Plus    Sentence Plus    Extended Answers
Communication Catalyst Cards
Engaging, interesting questions and challenges divided by response level.  Questions are of many different types and formats in 4 color-coded sections.  Clients enjoy the randomness and variety of the questions – not the "same old stuff."  Adaptable for other uses such as Nonverbal cards for sequencing and short-term memory;  Extended Answer cards for flexibility, problem-solving, planning/organizing, and creative thinking.  Written for rehabilitation of adults and adolescents but applicable to a number of populations.  Very useful in a variety of settings and with family and friends.